We are a small, but perfectly formed, team:
Mark Littlewood, CEO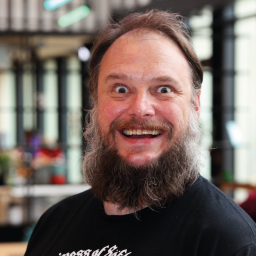 Mark has spent 30 years in the tech sector collecting great people and ideas and connecting them to customers. Before Business of Software, he was part of the founding team at Library House, an investment research business based in Cambridge serving the global venture capital & banking communities, & The BLN, a business events company. He led the business development activities for the organisation & built a network of angels, early stage, venture & corporate investors.
Previously, he has worked with university spin-outs; run a 40 person consultancy business; & founded a web portal for the CAD community. Mark has worked in the publishing and information sectors & attended Trinity College, Cambridge. He tweets at @marklittlewood.
Kirk Baillie, Marketing & Operations
Kirk moved to Cambridge from Paisley in 2012 and has been working in the leisure industry matching people with their perfect fitness and wellbeing memberships – selling 'hot and sweaty' is no easy task!
Joining our Marketing Team, Kirk brings with him a wealth of experience of caring about people's needs; caring about design; and caring about how people interact with each other and the world around them.
Jed Brooke-Williams, Business Development
Jed began his professional career as a trained Actor/Singer in London where he found his passion in performing arts. He spent the last 4 years in sales with the National Citizen Service; supporting young people across the UK to gain valuable skills.
He joins us here supporting Business Development and is passionate about the opportunities BoS brings to hundreds of like-minded professionals across the world. He is also very much looking forward to dad life having his first baby on the way!
Jo Littlewood, Event Director
Previously Jo spent 25 years working in theatre as a set designer. Somehow Mark managed to persuade her to swap model-making and press nights for bag-stuffing and VAT returns.
Jo hasn't regretted it.
Join the team - Browse current vacancies
Get your Fall BoS Conference Ticket
27 - 29 September 2021, Online
BoS Conferences are the events professional CEOs and serious founders attend to learn how to build, run, and scale successful software companies.
First batch of speakers and sessions have been announced. Attendance is limited to 300 spots.
"The only place where I feel, professionally, amongst my peers." — Scott Farquhar, founder and CEO of Atlassian
"Software people of the world: If you haven't been to a @bosconference, you should go." — Dharmesh Shah, founder and CEO of Hubspot