As Hubspot celebrates its 15th birthday, (9 June), Dharmesh Shah shared 15 things he has learned along the way one for every year.
Dharmesh has been a frequent speaker at Business of Software over the years. Just as Joel Spolsky's news last week prompted us to take a look at some of the talks that showed how his thinking has evolved over the years, Dharmesh's give an insight into how his learning as an entrepreneur has grown as his baby Hubspot has too.
From insights around MIT, through building better businesses, successful businesses, big ass businesses, great businesses, you can see the trajectory of the company and the entrepreneur… This will be a business school case study one day.
Here are some of the highlights…
Before you dig in and binge watch, Dharmesh's 15 points are well worth a read.
Build a diverse team early.
Instil a 'customer first' mindset and implement mechanisms to foster it.
Good intent is necessary, but not sufficient. Good execution is what pays the bills.
Learning culture through osmosis stops working pretty quickly.
Transparency is scary – but spectacularly effective.
More companies die of co-founder conflict than any other cause.
Though it's fun to create a new category, it's not always necessary.
Believe in your team.
Push yourself and the team to take smart risks.
Be rationally generous.
Avoid cynics – they are toxic, energy sucking vampires.
Your long-term success will be defined by the "systems thinkers"
Most things are learnable skills both at a company level and an individual level.
Align your vectors.
Learn as much as you can, from anywhere you can, constantly and forever.
That last one is not just a throwaway line, it's something Dharmesh lives by a I was reminded when he registered for this year's Spring conference…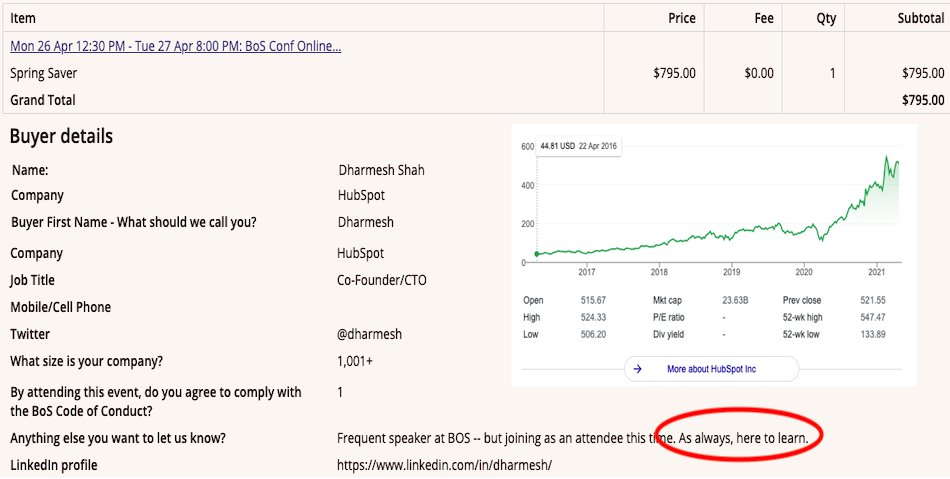 While those are the headlines, they don't really tell you much you couldn't pick up following a 'thought leader' on Twitter (Zero). They need context and Dharmesh's notes around each are well worth a read. Seeing some of the talks he has given over the years gives you a level of understanding beyond anything else.
Some of Dharmesh's Greatest Hits
An impossibly young Dharmesh talks about the bootstrapped origins of Hubspot, the benefits of not having enough cash and the 12 flaming hoops of venture capital.
Still young but the ambition is building…
Dharmesh discusses why venture capital is neither necessary, nor evil. As a code obsessive he explains why, as user experience is EVERYTHING, Hubspot developed its key metric, the 'CHI' – Customer Happiness Index.
Hubspot was making waves by this point and once again, Dharmesh's ambitions are raised too. Packed with insightful idea about the metrics that count, why you don't have to play golf and how he tried to talk Drew Houston out of starting Dropbox…
For a talk that starts, "I am going to apologize… we're going to talk a lot about strategy. I'm not a strategist, I'm a developer, but I have very, very strong opinions… I'm going to be around all conference, so if you want to debate any of these topics, feel free." There was a lot of great insght into what strategy means, how you can apply it to growing big businesses and more than a few brilliant ideas for strategies and tactics for making your software business meaningful, profitable and valuable.
When responsibility for Hubspot culture ended up on Dharmesh's desk, he approached the subject with the same analytical zeal that any technophile would – by looking at culture as a coding thing.
Now a public company and another talk filled with thoughts on metrics, growth, value, culture and more. Killer question… "What's changed at HubSpot since the Dan Lyons book has come out?"
We have a little more to share from Dharmesh but it will have to wait for another day. Stay tuned and if you don't get the nice newsletter we send by email with more top content, put that right below.
Learn how great SaaS & software companies are run
We produce exceptional conferences & content that will help you build better products & companies.
Join our friendly list for event updates, ideas & inspiration.